Mens Puma Cabana Racer II Fashion Shoe
As comfortable as it is stylish
---
R 489
Shipping Included
Was R 699
eB4 890
Discovery Miles 4 890
---
Colour: blue/grey
Size: Select a size
Note: You have to select a size before you will be able to check out this item.
Description
This lightweight runner was an instant hit when first introduced back in 1981 and has stayed on top ever since. Just goes to show, some things never go out of style. The cushioned construction makes this shoe as comfortable as it is stylish.

- Nylon and suede upper
- Cushioned
- Rubber Sole
- Width - D - Medium
Product Info
Brand

Color Description

blue/grey

Colour

Name

blue/grey

Primary

blue

Secondary

grey

Country

South Africa

Gender

Men

Primary Color

blue

Secondary Color

grey

Sole

Durable Rubber

Upper

Nylon and suede

Video Disabled

0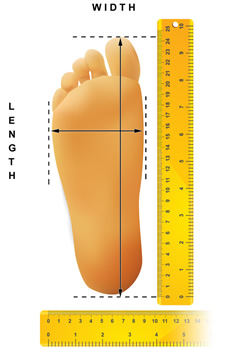 You can accurately determine your foot size using these simple instructions. All you need to get your proper foot measurement at home is:
A piece of paper larger than your foot
A pencil
Tape
A ruler or measuring tape.
Follow these steps for each foot. You might find it easier to have someone else do the tracing of the foot.
Tape the paper down to the floor
Sit with your foot firmly on the floor, and your leg tilted slightly forward so that your shin is slightly in front of your ankle.
Trace the outline of your foot ensuring that the pencil is held snuggly against your foot as you draw around it at all times. Do not hold it at an angle.
Measure the length of the tracing at the points shown in the diagram below.
Write this number down.
Repeat these steps for your other foot, and use the larger of the two.
After you have your numbers written down, you'll want to subtract 0.2 inches or 5mm from the numbers. This is to accomodate for the slight space between your actual foot and the line made by the pencil.
These final numbers are your actual foot measurements. You can then (after selecting the shoe of your choice) use our size chart to select the correct size based on these measurements.
Related Products